Hypotheses at: Nov 2016
An oolichan trail?
If the shoreline characteristics of 2016 are significantly different from 1856, then post-colonial public works, and industrial and commercial impacts significantly altered the shoreline and ecological dynamics of the Qualicum River watershed and the Lake.
Did logging change the water table, lowering the depth of the lake?
– Were the lands where the park campsites are located originally submerged, since the camp is sandy soil?
– Or, did the lands of the camp slump into the lake?
– And if so, is the track of the later trail and waggon road along the northern shore snug against higher ground?
– Were the bays on the eastern shore and northern shores marshlands?
– Were they dug out when Railway Magnate Dunsmuir made the lake the centrepiece of his hunting and fishing lodge?
Are there historical/archaeological-dig sites-in-waiting?
– Consider the red (general) and yellow (primary) squares
– "Site A/Yellow" because there is exposed beach near a freshwater stream
– Can we model the wind patterns on the lake as if it had old-growth forest cover, and might this influence where canoeists hugged the shore?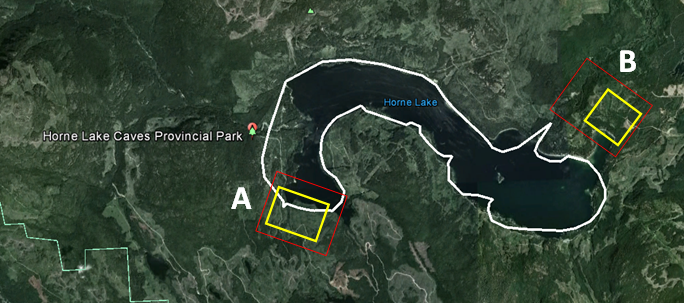 A. Volunteer Route & Site Archaeology/History – Archives Search for Evidence

Oral Histories – all three First Nations
Company archives search – especially British, American, Spanish, Russian, Dutch WIC & VOC companies, & colonial companies
National archives – Canada & Provincial, UK, USA including Hawaii ("Sandwich Islands"), Spain, Portugal, The Netherlands, New Zealand, etc.
B. Volunteer Remote Sensing Archaeology

Compare 1856 to airphoto sets of 20th century.
Use lidar remote sensing to test for evidence.
Match against air and satellite remote sensing imagery.
C. Site Archaeology projects

Ground-truthing & dive archaeology by professional archaeologists & diving volunteers.
Obtain help from a ready pool of summer "dig site" volunteers & visitors.