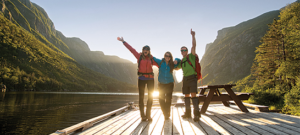 A small National Park

A. Goals
protect archaeological & ecological sites

link up with the Vancouver Spine Trail running the length of the Island

grow economic spin-offs for the Island's central coast region
B. Horne Lake / Regional District of Nanaimo option
C. Alberni-Clayoquot Regional District option
"Alberni Islands National Park"

designed to match the Gulf Islands NP precedent arrangement

linking "islands" of culture and ecological significance across the Alberni District.
D. Economic Profile & Marketing Opportunities for Provincial Tourism Industry
150th Anniversary of Confederation – financing from Ottawa
First Nations guided archaeological investigation at & under lake
Partner marketing for supporting companies (ex. MDA Geospatial for lidar/ground radar analysis? ROV manufacturer for lake surveys?)
National Park Site & Heritage Trail designation to protect the trail routes
Elevated walkway tours of on-going site investigation if archaeological survey indicates this is warranted
Hiking/Walking and Canoe Trail – ties into the new Vancouver

Island

Spine Trail http://www.vispine.ca/
Invitation to member of Royal Family to unveil National Historic Site
"Oolichan Trek" – Annual

Alberni

to Horne Lake PP to Qualicum race or trek
BC Heritage Fair for children
Historical Re-enactor event
"Oolichan Trail International Challenge" – annual national/international high school orienteering & racing competition
"Oolichan Ironman" (with tumpline/pack as marketable test of endurance)
E. Business spin-offs
Lodging, campgrounds & resorts
Outdoor recreation & floatplane services
Forest License conversions to real estate
Real estate sales & services
Circle Route & Tours
Increasing day-trips and overnight trips to mid-coast region of Vancouver

Island

Longer visit duration grow purchase of food, lodging, outfitting, attractions, visits to other parts of Vancouver

Island

Longer duration grows visibility of Vancouver

Island

's attractiveness to Lower Mainland tour operators
Posting the map discovery on FB sparked a friend in Ontario to start planning a trip to the

Island

with family. Simply from news from a trusted source.