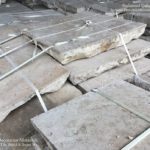 An interesting anomaly during the Mahone Bay smuggling investigations, noticed earlier this year. Boston, MA officially imported limestone from England until finding a local supply at Newbury, MA in 1697, but…Royal officials reported the discovery of Narragansett Bay limestone (possibly to James I's Secretary of State, Lord Arlington) in 1665; and a quarry company at Lincoln, RI claims to have been in operation since the 1650s. No shipments seem to have (officially) got to nearby Boston.
Was there no coasting trade?
Why no shipments to Boston, the largest nearby entrepôt – hungriest market for all things limestone?
Did Rhode Island – founded by Massachusetts dissenters – competitively keep its lime to itself?
Did English merchants control the trade?
Did lime get smuggled instead?
References:
Dec. 14. 1103. George Carr to (Sec. Lord Arlington?) "In obedience to his Lordship's commands, here are the transactions of the Commissioners in New England briefly set down, each colony by itself….Nanhygansett Bay is the largest and safest port in New England, and fittest for trade. There are two scattered towns besides two upon the mainland and four small villages. Only limestone is found, and the Governor and magistrates serve at their own charges."'America and West Indies: December 1665', in Calendar of State Papers Colonial, America and West Indies: Volume 5, 1661-1668, ed. W Noel Sainsbury (London, 1880), pp. 338-351. British History Online http://www.british-history.ac.uk/cal-state-papers/colonial/america-west-indies/vol5/pp338-351
Lime House, Rhode Island – History: http://www.blackstonedaily.com/History&Heritage/lime_rock.htm
---

Image used with permission.: Original Top Quality First Cut Antique Dalle de Bourgogne French Limestone Flooring, The wonderful image of antique flagstones comes from Historic Decorative Materials of West Hatfield, MA; an e-commerce site supplying aged French and Belgian floorings to the fine home building market. Co-founders: Emmi & François Micallef.