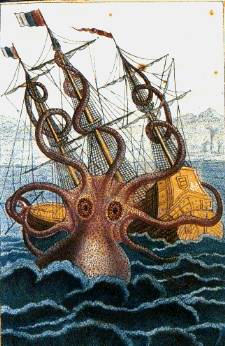 Yesterday, one of my friends (founder) asked why I don't start easier ventures? The reason relates to the framing (and re-framing) of the challenge: No matter what I think about, it has been my experience that the leap-frogging steps of a disruption are nearly always seen as impossible/hard to comprehend . . . 
. . . (and in this, it appears not so much that the barrier is a belief in the "impossibility", but that the person cannot intellectually follow or comprehend how I got there and ego seems to get in the way).
So, if whatever I do is seen this way, then (perhaps paradoxically) it makes more sense to me to do the biggest scariest monster.
Because this takes exactly the same effort as the apparently-most-possible of the allegedly impossible.
Not to mention massively satisfying.
---
Image: Pen and wash drawing by malacologist Pierre Dénys de Montfort, 1801, from the descriptions of French sailors reportedly attacked by such a creature off the coast of Angola. Public Domain, https://en.wikipedia.org/wiki/Kraken