A new map for BC
In the case of Tsilhqot'in First Nation, the Supreme Court of Canada recently decided that aboriginal title never got extinguished. And Premier Clark recently declared that the treaty process is not working–part of her reasoning for cancelling the appointment of the province's treaty commissioner.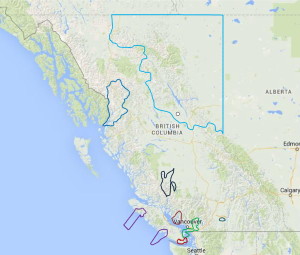 Perhaps it is not working because most of BC has returned to First Nations title?
Perhaps the hard truth is that the British Columbia has legally shrunk to a handful of treaty lands covering less than 1/3 of the land area?
Perhaps the new reality is that First Nations do not have to participate in treaties any more?
Should First Nations establish a new Province?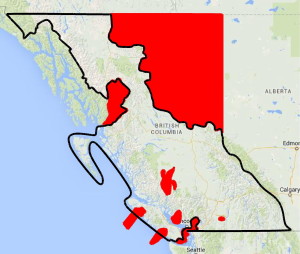 Perhaps First Nations could in fact create a new Province of the Peoples of the Coast (black outline), with a capital and legislature where First Nations people want it — Prince George? Kamloops? Prince Rupert? Or an entirely new, planned, capital city? And a provincial regime that assets the constitutional rights of the landowners? A capital where foreign embassies for other Provinces, the federal government, Province of BC treaty nations (red) and other States could locate?
Should Lower BC become a Megacity-sized Province?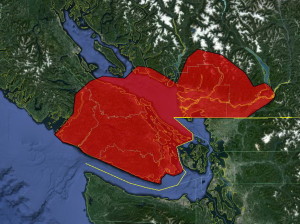 We have a funny situation. Most of BC has nothing in common with the metropolitan area on its lower big toe. But that 'big toe' governs everything.
In the face of the Supreme Court decision, is that equitable? In the face of that decision, after the horror of the residential schools, isn't the right thing self-governance under the United Nations Charter?

---
Maps:
https://www.aadnc-aandc.gc.ca/DAM/DAM-INTER-HQ-AI/STAGING/texte-text/mprm_treaties_th-ht_bc_1371839407696_eng.pdf
http://www.bctreaty.net/nations/nation_maps/Treaty-Negotiations-in-British-Columbia-Map.pdf