Many entrepreneurs need to follow the money to Silicon Valley. But US visa programs can be a challenge.
Blueseed Ventures offered a solution: Putting a tech incubator in international waters with a ferry traveling to San Francisco every day.
Lots of interest but not enough funders. Not to mention legal entanglements such as border controls and inspections, all rightfully a responsibility of the United States to its citizens.

Is a new visa program, paradoxically, the easier way?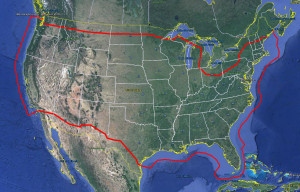 Could the US create a new "Border Entrepreneur visa (BE-1)" that allows entrepreneurs to enter and operate startups and companies on US soil, to get access to US capital, without living in the USA?
Here is my thinking:
100-mile border zone inside US land border

100-mile border zone adjacent to the coastline of US states and territories

Visa region includes US territories (Puerto Rico, Guam, US Virgin Islands, etc)

US citizens get priority hiring as employees (core team exempt from the rule)

Mutual benefit for entrepreneurs and US economy

US evaluates entrepreneurs without having the entrepreneur burden US services
Example: a BC entrepreneur could operate in Whatcom County (Blaine, Bellingham, Ferndale) and return home to Vancouver every evening. Or simply move to Seattle or Tacoma.

What would this do for Plattsburg, NY, or Detroit, MI, or Yuma, AZ?
Could this alleviate the 'undocumented alien' challenge along the Mexican border? And produce certainty for authorities and law-abiding immigrants?

Could BE-1 visa holders demonstrating good citizenship and contributions to the economy "graduate" to the resident visa/citizenship stream?
Could the BE-1 produce legal/economic certainty for sea-stead ventures located between the coastline, and the 200-mile Exclusive Economic Zone or 12-mile offshore treaty border?