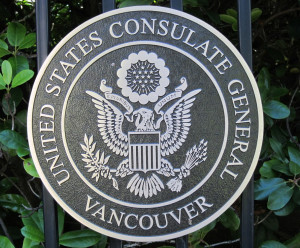 A country's embassies and consulates are that nation's territory, subject to its laws, rules, and customs.
Some time ago, I asked the US State Department to create an incubator inside the Vancouver consulate.
Every day, I could walk to my office in America without having to leave Canada. An embassy official appreciated the creativity but said no dice.

Hence the "Border Entrepreneur Visa" proposal, posted earlier this week: http://davehuer.com/blog/replacing-the-us-eb-1-and-e-1-with-a-be-1-visa/

---
Image: Seal of the US Consulate, Vancouver, BC. Public Domain: https://www.flickr.com/photos/us_mission_canada/4770405952 – https://creativecommons.org/licenses/by/2.0/